Egypt: Al Qaeda and Muslim Brotherhood Mobs Burn Christian Coptic Churches
What is unfolding in Egypt is sectarian warfare supported covertly by the US. (GREd)
by John Rossomando


Egypt's Coptic Christian minority has become a favorite target for Muslim Brotherhood supporters and other radical Islamists across the country in the wake of the 
military's decision
 to clear supporters of ousted President Mohamed Morsi from their Cairo sit-ins this morning.
No sooner did security forces, backed by armored cars and bulldozers, clear encampments in the city's Nadha and Raba'a al Adiwiya squares did the Islamists turn to targeting Christian churches. Approximately 
1,000 Muslim Brotherhood supporters
set fire to the Churches of Abraham and the Virgin Mary in Menya.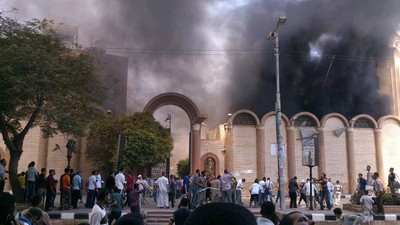 Angry mobs also targeted churches, monasteries and other church properties in Alexandria, Suez and a number of other cities in Upper Egypt, according to Egypt's 
Al-Ahram
.
Muslim Brotherhood members (Preview)  also firebombed Mar Geergiss Church, the main Coptic church in the southern Egyptian city of Sohag, burning it to the ground. Islamists had previously raised an al-Qaida flag over the church. St. Theresa Church in Assiut in Upper Egypt was also burned.
"It is a climate of violence," he added, "and the people are scared," Father Rafic Greiche, a Catholic Church spokesman in Egypt, told Vatican Radio.
Sixteen Coptic churches had been torched by pro-Morsi mobs, including several ancient ones, the Egyptian blogger 
"Big Pharoah" wrote
 in a Twitter post.
Brotherhood supporters blame the Copts for toppling former Egyptian President Mohamed Morsi because Coptic Pope Tawadros II backed the military's July 3 move to oust him.
"These guys have been blowing places up and killing people in Sinai. They've been attacking churches all over Egypt – putting 
al-Qaida flags
 and Morsi's pictures on churches, so there is no question that the Brotherhood are the new terrorists," Michael Meunier, president of Egypt's Al-Haya Party and a Coptic Christian, said regarding the violent Islamist attacks against Christians since Morsi's fall.
Just last week, a 
10-year-old Coptic girl
 was shot dead by Islamic militants on her way home from Bible school. 
Muslim extremists tossed firebombs
 through the windows of four Christian homes and a local church last Sunday to stop a Christian neighbor from building a speed bump in front of her home. The clash left 15 people wounded.
Read more at:
http://www.investigativeproject.org/4124/muslim-brotherhood-burns-churches-scapegoats