44-Year old Edmonton Police Service Constable Corinne Kline Died Suddenly on March 23, 2023
All Global Research articles can be read in 51 languages by activating the Translate This Article button below the author's name.
To receive Global Research's Daily Newsletter (selected articles), click here.
Follow us on Instagram and Twitter and subscribe to our Telegram Channel. Feel free to repost and share widely Global Research articles.
***
"It is with profound sadness, the Edmonton Police Service (EPS) announces the passing of Constable Corinne Kline. Our thoughts and prayers are with her family and friends during this difficult time. We will miss her dearly." EPS wrote on Twitter (click here)
"Corinne Kline: A true gem, a leader, a parent, a wife, a friend, a community member & a colleague has departed and we mourn. We will always remember her positive spirit for her family, the service and the community she loved." (click here)
Police did not announce her cause of death, but CTV News Edmonton confirmed she had a medical condition and was hospitalized last week. (click here)
COVID-19 vaccination status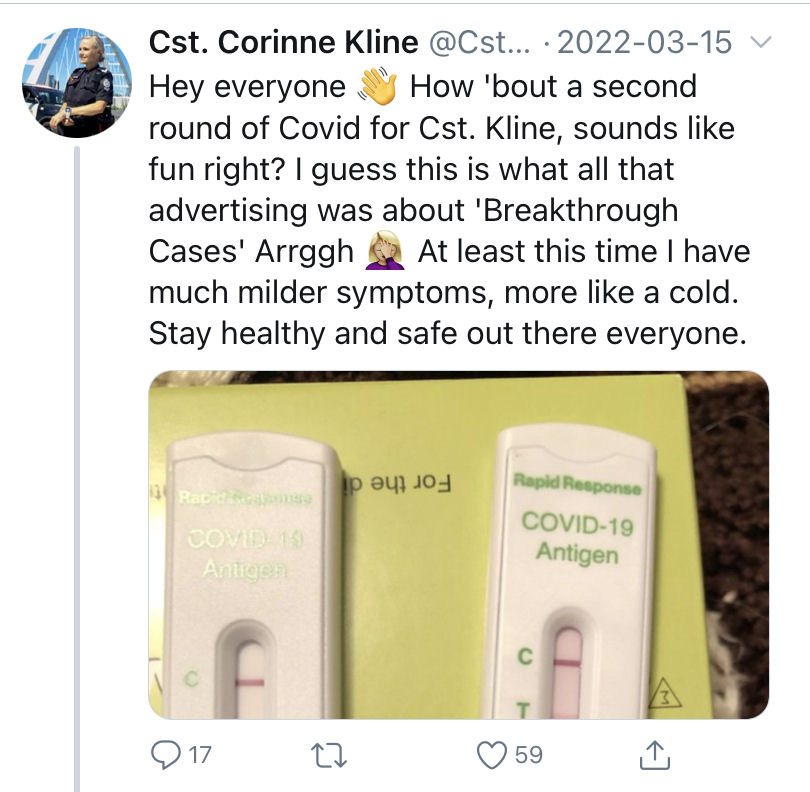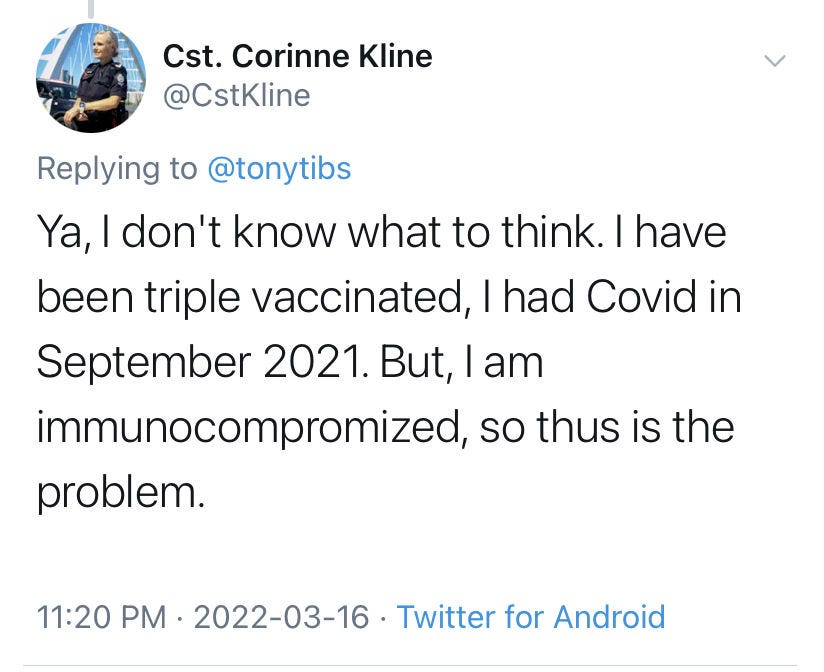 My Take…
If Constable Corinne was triple COVID-19 vaccinated in March 2022, and was immunocompromised, it is highly probable that her doctor would have urged her to stay uptodate on her vaccines (every 6 months), and she most likely would have had five COVID-19 vaccines in total before she was hospitalized last week.
In addition to that, she had COVID-19 infection at least twice.
I believe most doctors in Canada had no idea that the COVID-19 vaccines damage the immune system and cause immune dysfunction or immunosuppression.
I don't know the source of her immunocompromised status, but the COVID-19 vaccines would have only made her situation that much worse.
Edmonton Police Service had a COVID-19 vaccine mandate in place, and announced that more than 95% of EPS employees were fully vaccinated by Nov.30, 2021 (click here)
*
Note to readers: Please click the share buttons above. Follow us on Instagram and Twitter and subscribe to our Telegram Channel. Feel free to repost and share widely Global Research articles.
All images in this article are from the author
---
The Worldwide Corona Crisis, Global Coup d'Etat Against Humanity
by Michel Chossudovsky
Michel Chossudovsky reviews in detail how this insidious project "destroys people's lives". He provides a comprehensive analysis of everything you need to know about the "pandemic" — from the medical dimensions to the economic and social repercussions, political underpinnings, and mental and psychological impacts.
"My objective as an author is to inform people worldwide and refute the official narrative which has been used as a justification to destabilize the economic and social fabric of entire countries, followed by the imposition of the "deadly" COVID-19 "vaccine". This crisis affects humanity in its entirety: almost 8 billion people. We stand in solidarity with our fellow human beings and our children worldwide. Truth is a powerful instrument."
ISBN: 978-0-9879389-3-0,  Year: 2022,  PDF Ebook,  Pages: 164, 15 Chapters
Price: $11.50 Get yours for FREE! Click here to download.
We encourage you to support the eBook project by making a donation through Global Research's DonorBox "Worldwide Corona Crisis" Campaign Page.