War Crimes: White Phosphorus bombs into Gaza
White Phosphorus: Israel fires artillery shells into Gaza
Matthew Weaver and agencies
The Guardian
Sat, 03 Jan 2009 17:44 UTC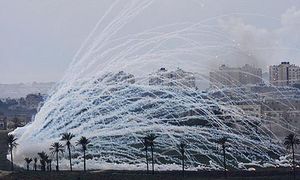 © Bernat Armangue/AP
A shell fired by the Israeli military explodes in the northern Gaza Strip.
Israel unleashed an artillery bombardment on Gaza today for the first time in its week-long offensive, prompting increased speculation that a ground invasion is about to begin.
Palestinian medical officials also said that an Israeli airstrike on a Gaza mosque had killed 10 people and wounded dozens more. Al Jazeera quoted witnesses as saying there were at least 200 people at prayer inside the Ibrahim al-Maqadna mosque in northern Gaza when the missile struck.
The Israeli TV station Channel 10 said the entire length of the Gaza Strip was under attack. Palestinian witnesses told Reuters the shelling had caused a large explosion in Gaza City and there were a series of blasts close to the frontier with Israel. There were no immediate reports of casualties.