RussiaPhobia and the Skripal Affair: Where They Tell You Not to Look
At the very beginning of the Skripal incident, the security services blocked by D(SMA) notice any media mention of Pablo Miller and told the media not to look at Orbis and the Steele dossier on Trump, acting immediately to get out their message via trusties in the BBC and Guardian. Gordon Corera, "BBC Security Correspondent", did not name the source who told him to say this, but helpfully illustrated his tweet with a nice picture of MI6 Headquarters.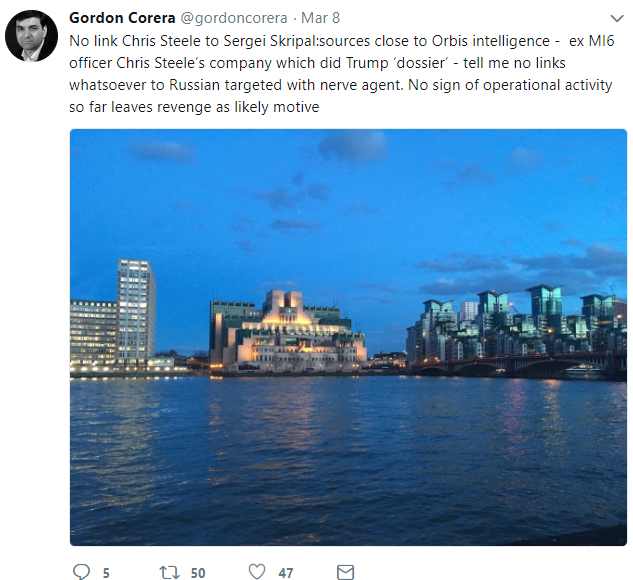 MI6's most important media conduit (after Frank Gardner) is Luke Harding of the Guardian.
A number of people replied to Harding's tweet to point out that this was demonstrably untrue, and Pablo Miller had listed his employment by Orbis Business Intelligence on his Linkedin profile. That profile had just been deleted, but a google search for "Pablo Miller" plus "Orbis Business Intelligence", without Linkedin as a search term, brought up Miller's Linkedin profile as the first result (although there are twelve other Pablo Millers on Linkedin and the search brought up none of them). Plus a 2017 forum discussed Pablo Miller's Orbis connection and it both cited and linked to his Linkedin entry.
You might think that any journalist worth his salt would want to consider this interesting counter-evidence. But Harding merely tweeted again the blank denials of the security services, without question.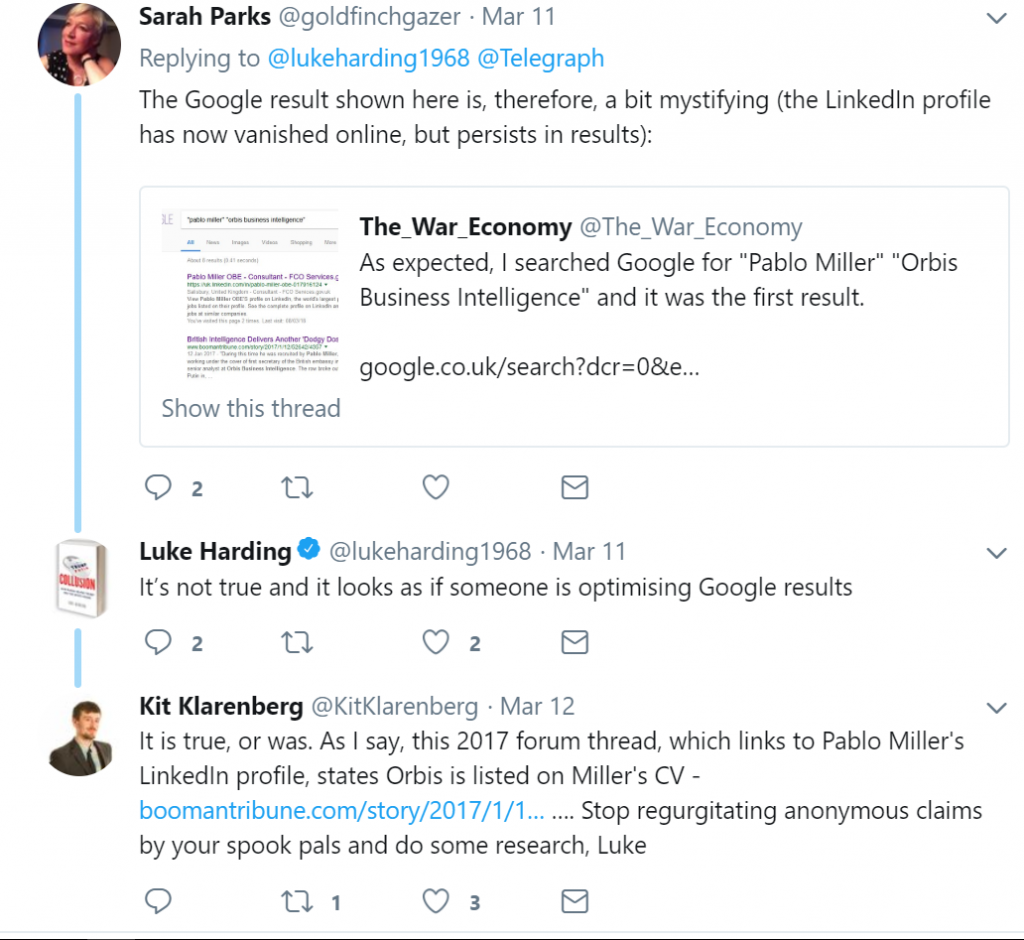 This is an important trait of Harding. Last year we both appeared, separately, at the Jaipur Literature Festival. Harding was promoting a book and putting the boot into Wikileaks and Snowden. After his talk, I approached him in an entirely friendly manner, and told him there were a couple of factual errors in his presentation on matters to which I was an eye-witness, and I should be very happy to brief him, off the record, but we could discuss which bits he might use. He said he would talk later, and dashed off. Later I saw him in the author's lounge, and as I walked towards him he hurriedly got up and left, looking at me.
Of course, nobody is obliged to talk to me. But at that period I had journalists from every major news agency contacting me daily wishing to interview me about Wikileaks, all of whom I was turning down, and there was no doubt of my inside knowledge and direct involvement with a number of the matters of which Harding was writing and speaking. A journalist who positively avoids knowledge of his subject is an interesting phenomenon.
But then Harding is that. From a wealthy family background, privately educated at Atlantic College and then Oxford, Harding became the editor of Oxford University's Cherwell magazine without showing any leftwing or rebel characteristics. It was not a surprise to those who knew him as a student when he was employed at the very right wing "Daily Mail". From there he moved to the Guardian. In 2003 Harding was embedded with US forces in Iraq and filing breathless reports of US special forces operations.
Moving to Moscow in 2007 as the Guardian's Moscow correspondent, others in the Moscow press corps and in the British expatriate community found him to be a man of strongly hawkish neo-con views, extremely pro-British establishment, and much closer to the British Embassy and to MI6 than anybody else in the press corps. It was for this reason Harding was the only resident British journalist, to my knowledge, whose visa the Russians under Putin have refused to renew. They suspected he is actually an MI6 officer, although he is not.
With this background, people who knew Harding were dumbfounded when Harding appeared to be the supporter and insider of first Assange and then Snowden. The reason for this dichotomy is that Harding was not – he wrote books on