Living and Dying in the Global Economy
By Caoimhghin Ó Croidheáin
Global Research, November 11, 2012


Url of this article:
https://www.globalresearch.ca/oil-paintings-living-and-dying-in-the-global-economy/5311268
Making Cents: Life Below the Bottom Rung
A series of oil paintings examining the daily existence of people in the worst working, living (and dying) conditions in the global economy.

Tolerance slides easily towards indifference, as the efficiency of the economy becomes the only shared commitment. Similarly, compromise turns readily into complacency, when the familiar seems safer than the unknown. 'Neutrality', it often turns out, is not neutral at all, but sides with the way things are to avoid the dissension that might lead to change for the better. Consensus, then, may come into conflict with justice.   (Catherine Belsey Poststructuralism)

Athens Demonstrations 2012
Oil on canvas
60cm x 60cm / 23.6 in x 23.6 in

Madrid Demonstrations 2012
Oil on canvas
60cm x 60cm / 23.6 in x 23.6 in

Striking Miners, South Africa 2012
Oil on canvas
60cm x 60cm / 23.6 in x 23.6 in

Shadow of a Gunman, Sudan
Oil on canvas
60cm x 60cm / 23.6 in x 23.6 in

Aleppo, Syria (2)
Oil on canvas
60cm x 60cm / 23.6 in x 23.6 in

Aleppo, Syria (1)
Oil on canvas
60cm x 60cm / 23.6 in x 23.6 in

Street Battles, The Congo
Oil on canvas
60cm x 60cm / 23.6 in x 23.6 in

Duékoué, Côte d'Ivoire
Oil on canvas
60cm x 60cm / 23.6 in x 23.6 in

Ogaden, Ethiopia
Oil on canvas
60cm x 60cm / 23.6 in x 23.6 in

Pakistan
Oil on canvas
60cm x 60cm / 23.6 in x 23.6 in

Sortie
Oil on canvas
60cm x 60cm / 23.6 in x 23.6 in

Massacre
Oil on canvas
50cm x 60cm / 19.7 in x 23.6 in

Mustard Gas
Oil on canvas
50cm x 60cm / 19.7 in x 23.6 in

The Chemical Weapons Convention (CWC) is an arms control agreement which outlaws the production, stockpiling and use of chemical weapons. Its full name is the Convention on the Prohibition of the Development, Production, Stockpiling and Use of Chemical Weapons and on their Destruction. The agreement is administered by the Organisation for the Prohibition of Chemical Weapons (OPCW), which is an independent organization based in The Hague, Netherlands.

Room Without a View
Oil on canvas
60cm x 80cm / 23.6 in x 31.5 in

The Bullet and the Damage Done
Cairo Demonstrators, Egypt
Oil on canvas
70cm x 100cm / 27.6 in x 39.4 in

Immigrant
Oil on canvas
50cm x 60cm / 19.7 in x 23.6 in

The Civil Guard takes charge of a drowned man in Santa Pola, Alicante, as the search for his companions continued. The body, which was of an Algerian immigrant, was found 15 miles from the island of Tabarca, Alicante, Spain.
[El Pais 13 August 2010]

Garment Factory
India
Oil on canvas
150cm x 150cm / 59.1 in x 59.1 in

Hommage à Haiti
Oil on canvas
150cm x 150cm / 59.1 in x 59.1 in

When French commissioner Léger Felicité Sonthonx arrived on the island [of Haiti] in 1791, he faced a full scale rebellion by the white aristocracy and had to use an army of local slaves to put them down. The leader of this army would become one of the greatest generals in history. This self-educated Haitian General's name was Toussaint Louverture. After putting down the landowners, Louverture liberated the entire slave population. Louverture and the Black Jacobins successfully defeated the French occupiers and Haiti became the first free black nation in the world.

[from France and the History of Haiti by Gearóid Ó Colmáin]

Diamond Panning
Sierra Leone
Oil on canvas
150cm x 150cm / 59.1 in x 59.1 in

On 1 December 2000, the United Nations General Assembly adopted, unanimously, a resolution on the role of diamonds in fuelling conflict, breaking the link between the illicit transaction of rough diamonds and armed conflict, as a contribution to prevention and settlement of conflicts (A/RES/55/56). In taking up this agenda item, the General Assembly recognized that conflict diamonds are a crucial factor in prolonging brutal wars in parts of Africa, and underscored that legitimate diamonds contribute to prosperity and development elsewhere on the continent.

http://www.un.org/peace/africa/Diamond.html

Aerial Bombardment
Oil on canvas
150cm x 150cm / 59.1 in x 59.1 in

Protocol Additional to the Geneva Conventions of 12 August 1949, and relating to the Protection of Victims of International Armed Conflicts (Protocol I), 8 June 1977
Art 51. – Protection of the civilian population

1. The civilian population and individual civilians shall enjoy general protection against dangers arising from military operations. To give effect to this protection, the following rules, which are additional to other applicable rules of international law, shall be observed in all circumstances.

2. The civilian population as such, as well as individual civilians, shall not be the object of attack. Acts or threats of violence the primary purpose of which is to spread terror among the civilian population are prohibited.

3. Civilians shall enjoy the protection afforded by this section, unless and for such time as they take a direct part in hostilities.
4. Indiscriminate attacks are prohibited. Indiscriminate attacks are: (a) those which are not directed at a specific military objective; (b) those which employ a method or means of combat which cannot be directed at a specific military objective; or (c) those which employ a method or means of combat the effects of which cannot be limited as required by this Protocol; and consequently, in each such case, are of a nature to strike military objectives and civilians or civilian objects without distinction.

http://www.icrc.org/ihl.nsf/WebART/470-750065?OpenDocument

Interrogation
Oil on canvas
150cm x 150cm / 59.1 in x 59.1 in

United Nations Convention Against Torture defines torture as:
Any act by which severe pain or suffering, whether physical or mental, is intentionally inflicted on a person for such purposes as obtaining from him or a third person, information or a confession, punishing him for an act he or a third person has committed or is suspected of having committed, or intimidating or coercing him or a third person, or for any reason based on discrimination of any kind, when such pain or suffering is inflicted by or at the instigation of or with the consent or acquiescence of a public official or other person acting in an official capacity.

http://www.hrweb.org/legal/cat.html

Aftermath of Suicide Bomber,
Morgue in Rawalpindi, Pakistan
Oil on canvas
150cm x 150cm / 59.1 in x 59.1 in

A man looking for relatives at a morgue in Rawalpindi in Pakistan after a suicide bombing in which at least 35 people were killed and dozens more wounded in November 2009. Soldiers and civilians had gathered outside a branch of the National Bank of Pakistan to collect their monthly salaries and pension payments when the bomb exploded.

Kibera, Nairobi,
Kenya
Oil on canvas
150cm x 150cm / 59.1 in x 59.1 in
Kibera is the second largest urban slum in Africa (after Soweto in South Africa) with a population estimated at between 600,000 and 1.2 million inhabitants.  It is located in southwest Nairobi, about 5 kilometers from the city centre.  Improving the situation for the people who live there has been beset by problems such as petty and serious crime, difficult vehicle access, and the lack of building foundations as much of the ground is composed of refuse and rubbish.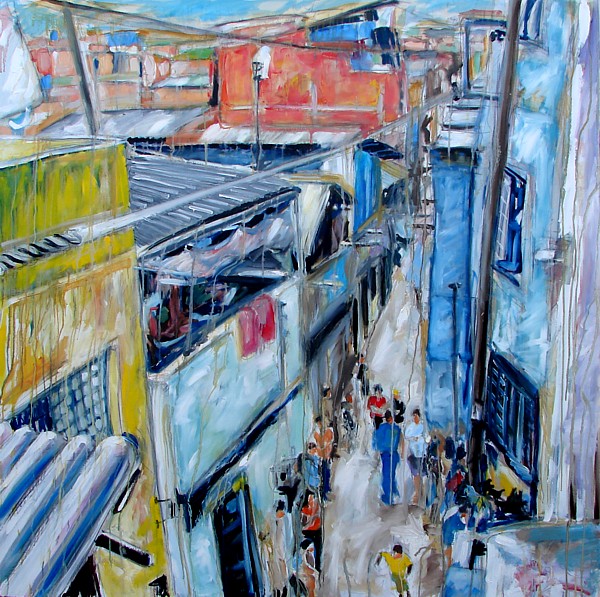 Favela, Rio de Janeiro
Brazil
Oil on canvas
150cm x 150cm / 59.1 in x 59.1 in
Many favelas in Rio de Janeiro are shanty towns built up the side of hills with access only by stairs and narrow pathways.  They are affected by landslides in heavy rain and their inhabitants regularly have to face the problems of drug wars and petty crime. Many were constructed in the 1970s when a construction boom attracted rural workers from poorer states in Brazil. It is estimated that about 19 per cent of Rio de Janeiro's population is living in one of 600 favelas around the city.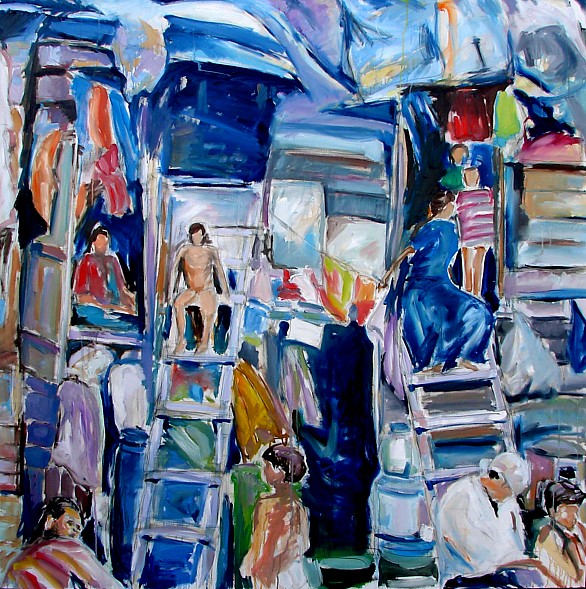 Dharavi Slum, Mumbai
India
Oil on canvas
150cm x 150cm / 59.1 in x 59.1 in
While Dharavi has been featured in films such as Danny Boyle's 2008 film Slumdog Millionaire, the difficulties such as sanitation issues, an inadequate water supply, overcrowding and poverty faced by people who live there are some of the worst in the world.  It is estimated that around 1 million people live in Dharavi making it one of the largest slums in Asia.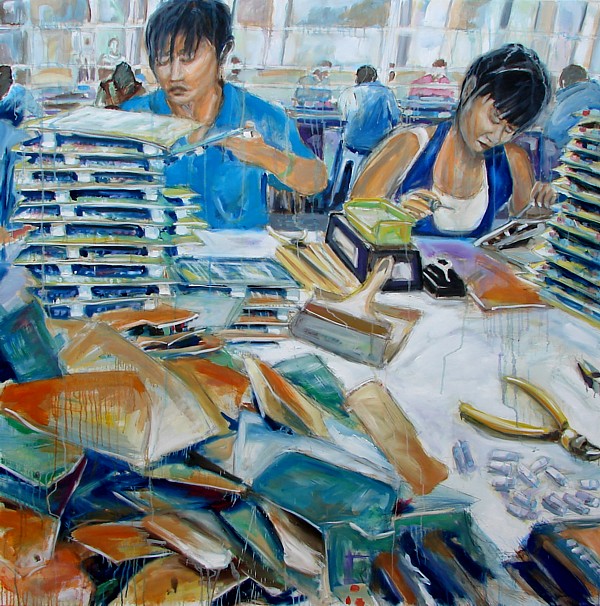 Soldering Circuit Boards
Toy factory Shantou, Guangdong, China
Oil on canvas
150cm x 150cm / 59.1 in x 59.1 in
Factory conditions in China have come under much criticism for issues such as subsistence wages, long working days, seven day weeks and illegal overtime hours. In some cases workers need permission to leave the factory grounds and live in cramped conditions sharing large dorms. Foreign investors, who have a huge presence in China, often violate the most fundamental human and worker rights. Opposition to such conditions can lead to being fired, or even arrest and imprisonment.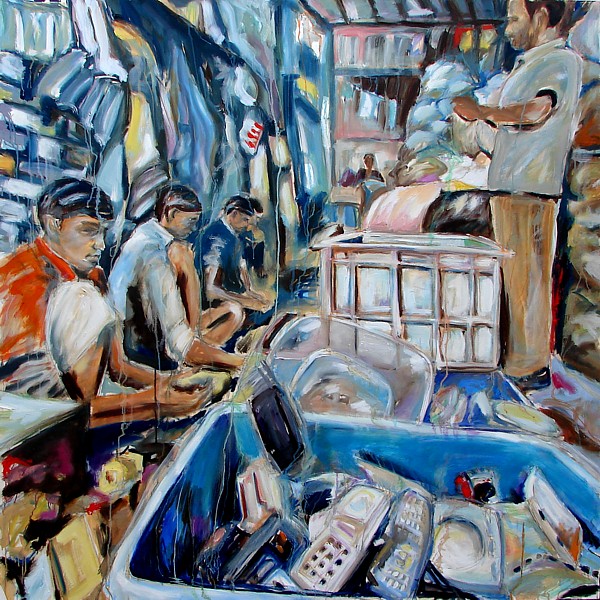 Phone Recycling
Mumbai, India
Oil on canvas
150cm x 150cm / 59.1 in x 59.1 in
In many slums around Mumbai people worked in traditional industries such as pottery and textiles. Now there is a growing recycling industry processing waste from other parts of Mumbai. Many of these industries are carried out in one-roomed factories manufacturing products that are distributed globally. While there have been some projects set up to improve living conditions, Dharavi remains a source of cheap labor for local and foreign investors.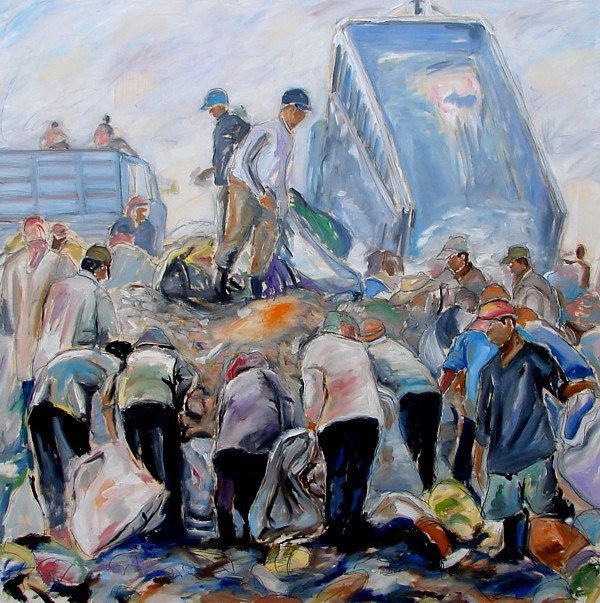 Rubbish Dump Recycling
Phnom Penh, Cambodia
Oil on canvas
150cm x 150cm / 59.1 in x 59.1 in
It is believed that over 3000 scavengers live and work around the Stung Meanchey municipal rubbish dump situated on the outskirts of Cambodia's capital city Phnom Penh. Many of the scavengers are children who have to leave school to earn money for their families. They work up to 14 hours a day looking for glass, plastic, metal and any other materials which can be recycled. Fumes from burning rubbish, dirty needles, flies and truck accidents pose huge threats to the safety and health of the workers there.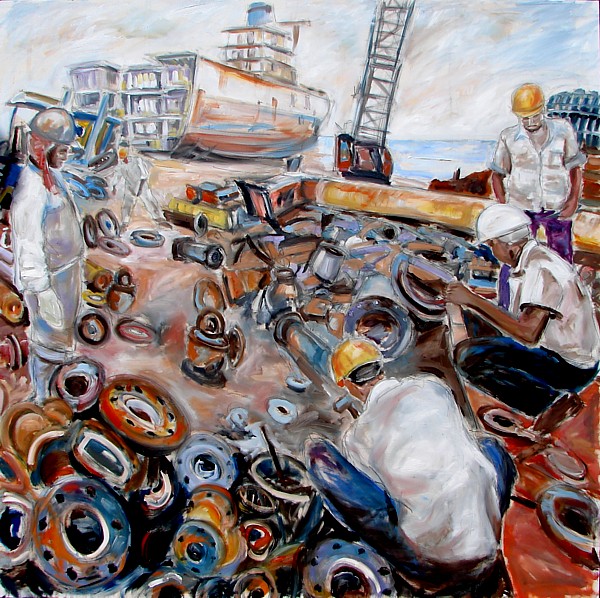 Ship Dismantling
Alang Shipyard, India
Oil on canvas
150cm x 150cm / 59.1 in x 59.1 in
Many ships such as supertankers, car ferries and container ships are dismantled on the beach at Alang in the state of Gujarat, on the west coast of India.  Thousands of people work in this industry and millions of tons of steel and other materials are recovered and then sold as scrap. However, it is a very dangerous business and the process maims and kills many workers each year and the shoreline is contaminated with oily waste, asbestos, toxic paint and other toxic materials.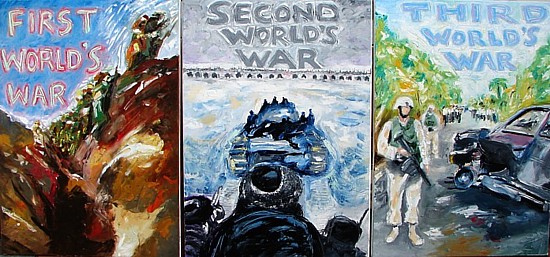 War Triptych
After World War II the world split into two large geopolitical blocs and spheres of influence with contrary views on government and the politically correct society:
1 – The bloc of democratic-industrial countries within the American influence sphere, the "First World".
2 – The Eastern bloc of the communist-socialist states, the "Second World".
3 – The remaining three-quarters of the world's population, states not aligned with either bloc were regarded as the "Third World."
(http://www.nationsonline.org/oneworld/third_world_countries.htm)
The First World War was to a large extent the war of the First World re-carving global markets with the intention of obtaining a greater share for themselves. Trench warfare was the dominant form with soldiers going over the top in  waves of attacks or risking being shot by their own officers if refusing to do so.
Although we don't hear the term so much now, the Second World referred to the Soviet Union. In their desire to defeat the Soviet Union politically and economically the capitalist powers supported and funded the development of munitions factories in Germany in the hope that Germany would become a springboard for an attack on the Soviet Union. This the Nazis did do eventually with a massive array of tanks and soldiers in a war that cost the lives of 15 million soviet citizens.
It has been argued that the Third World war is actually upon us though the superpowers have chosen to fight by proxy rather than head on. In some cases direct intervention has been employed provoking local reaction in the form of car bombs, the most recent weapon in the asymmetric warfare between the weak and the strong.
Caoimhghin Ó Croidheáin (pronounced Kee-veen O Cree-awn) is an Irish artist who has exhibited widely around Ireland. His work consists of drawings and paintings and features cityscapes of Dublin, images based on Irish history and other work with social/political themes.
Disclaimer: The contents of this article are of sole responsibility of the author(s). The Centre for Research on Globalization will not be responsible for any inaccurate or incorrect statement in this article.