Israel Invades Gaza, 264 Gazans and 2 Israelis Dead, But U.S. Media Has Moved On
Israel invades Gaza, the number of dead soars (UPDATED) (UPDATE 2: Gaza deaths soar to 264 on day 11 of Israel assault), but the media has moved on. The Malaysian passenger jet tragedy is huge news, but does Israel's invasion really not warrant even a mention on the Yahoo! News U.S. home page?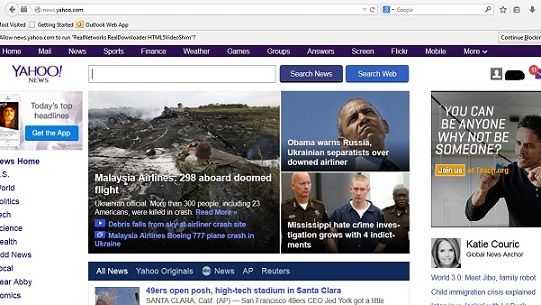 That's so odd that I start to question my own reality. Did Israeli missiles really kill four boys yesterday while they were playing soccer or hide-and-seek on a Gaza beach? Or was that just an 'anti-Israel' nightmare? Erase Gaza from your minds my fellow Americans, there's a Malaysian Airlines tragedy to ponder!
But then, go to the UK's Yahoo! News and the Israeli invasion of Gaza is back on, it's real again. All very strange, how our U.S. media masters treat us. Like guinea pigs in a carefully controlled disinformation experiment.Much Gaza news disappeared today, but while it was 'hot' half a day ago, we had this from famous American 'liberal' Bill Maher: "Dealing w/ Hamas is like dealing w/ a crazy woman who's trying to kill u – u can only hold her wrists so long before you have to slap her." Yeah, say it loud misogynist man! And then there was the case of the man who reported too well and had to be removed immediately from your television. (Ayman Mohyeldin "was instrumental, both in social media and on the air, in conveying to the world the visceral horror of the attack" on the four boys.)
But at least Israel can rest comfortably today, the paralyzed, bed-ridden terrorists of El Wafa Hospital*** will threaten it no longer: Israel destroys el-Wafa hospital as staff evacuates all patients. Even better, Alan Dershowitz tweets, today's a great beach day in Tel Aviv. And to make your beach day even better:
'Tel Aviv municipality to install giant screens to watch IDF offensive …' (See the 'screenshot' of the Times of Israel frontpage here) [Parody Alert!]
(Steven Salaita writes: "Many [email protected]′s parody of Israelis watching the bombing on a big screen is real. Think about that for a sec.")
***'The Israelis … have destroyed the only rehab clinic in the West Bank and Gaza. They are not solving the issues; they are creating more suicide bombers. You cannot solve issues like this at all. They are the ones creating suicide bombings, not us.' – El Wafa Hospital Director Basman Alashi
Copyright firedoglake.com 2014